We are delighted to announce the Winner of the 2014 Cafe Writers Open Poetry Competition, judged by David Morley,  is Jonathan Davidson with his poem Brickwork. David Morley writes:
An open poetry competition such as this attracts as much innocence as it does experience in terms of quality. There were 2047 entries. I tried to read as a reader, not as a writer; to approach the reading with few pre-conceptions of what a poem might perform. I was aware, however, that since I was the sole Judge my own tastes would inform my decisions. I took care not to mislead myself by restraining my tastes, yet I still held many internal debates. This was not an easy competition to judge. To paraphrase Auden, a real poem is not one that we read, but one that reads us. There is no sameness to this essence. Taste may help but also hinder judgement and, to my mind, there is no such thing as a "competition poem" – although one entry with that title made me smile.
There were innocent and beautiful poems that startled me, that I came back to time and again for their immediacy, their jaggedness – some were very moving (several still haunt me). There were poems of experience and beauty, deft with effect, intensively measured that survived the sifting of many evenings and made their own thoughtful anthology. The eleven winning poems are very different from each other in theme, tone and pattern. They held their own and came to life on re-reading. The top three emerged as front-runners after a great deal of reading aloud. In fact, the winning poem 'Brickwork' fought a running battle with another poem that turned out to be by the same writer. The statements about the top three poems were written before I knew the identity of their writers. I decided to leave these statements as I wrote them: to put the poetry first.
Everything about 'Brickwork' worked for me. The poem's directness and precision drew me in. There was no practised beguilement, no trickery or rehearsal. I was being talked to, directly. I was being taught, without indirection. Yet I was thrown sideways: 'The building of a cottage…// is song/ For hands that speak in courses…'; '…Who held their tongues but spoke vernacular.' It is imperative not to be lied to by a poem, even when the work is supreme fiction or enchantment. The realities of things and of people are themselves forms of magic, as is the magical reality of emotion. This poem is a quietly brilliant – and I think timeless – piece of writing. 'A nightingale for Gilbert White' is as complex as it is apparently quick and quickening in its observations. The movement of renewed life moves brilliantly across line-breaks and stanza-breaks. It is a poem that leans into its subject; it bends into the details of spring: '…April falls across the parish like stained glass, / like rest for the broken-backed.'  Again, there is precision and directness, and a sense for the primacy of attention. If attention is an act of love, then every good poem is a love poem, as this is. I kept coming back to 'Tiny Glass Horses', especially to the phrase-making on show throughout its performance. 'Are they dancing or harrowing?' asks the poet – such sheer intelligent vitality, an arpeggio of images unsettled, delighted and pulled me along. Surprise of language is the prize of this poem; its vitality and pacing are irresistible and irrepressible.
By sending a poem into a competition a writer is entering their work into what amounts to a contractual duel with other poems. Remember: the only poet with whom you are in competition is yourself. Congratulations to all the poets who entered and to those whose excellent poems appear here. Thank you.
Note: Having judged a number of poetry competitions over the past years I want to make what I hope will be taken as supportive suggestions. (1) Submit a poem as if it were being sent to a publisher: clearly printed in a legible font. (2) Consider the poem as a visual as well as a verbal form. If a poem is centred on a page there must be an artistic reason for that decision. (3) Read the poem aloud for sense and sound. (4) Weigh the line-break and caesura. Hear and see how and where a line might be stopped, slowed and/or enjambed. (5) Be alert to the importance of the poem's title – and the momentum it sets for the poem.
1st Jonathan Davidson
£1,000
Jonathan Davidson's most recent poetry collection is Early Train (Smith/Doorstop, 2011). His pamphlet Humfrey Coningsby: Poems, Complaints, Explanations and Demands for Satisfaction is due from Valley Press in 2015. Seven of his radio plays have been produced by BBC Radio, with an eighth due for broadcast on BBC Radio Four in April 2015. He is also a theatre/poetry performance producer working with Midland Creative Projects (www.livepoetry.org), most recently on The Hundred Years' War – Verdun to Afghanistan (touring Spring/Summer 2015). He lives in Coventry.
Brickwork
They use a Flemish bond, but set in it
Sufficient blue-flared headers
To make the lozenges
Of language for an eye
To read with ease a hundred years ahead.
A brick arch frames a window for the light
To be let in, and for a door,
A lintel. All are laid
Like script declaimed on Sundays
At faces plain as chimneys on a roof.
The building of a cottage, house or grange,
That finds its height and stands
Against the day, is song
For hands that speak in courses,
That harden as they weary of the work.
And they are dumb or gone away or dead
Who cut the sweet, pale clay
Of sentences and fired them
In common kilns to make
The narratives that keep us home and dry.
What we read now when walking through a place
Is all that's left of those
Who squared the quiet day
With chisel, hawk and bolster,
Who held their tongues but spoke vernacular.
2nd Jo Bell
£300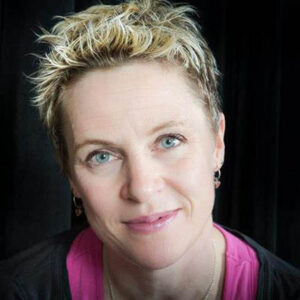 photograph by Claudio Ahlers
Jo Bell is the UK's Canal Laureate for the Poetry Society and CRT. Formerly director of National Poetry Day and of the global workshop group 52, she is a well-known advocate for poetry across the UK. Recent awards include the Charles Causley Prize, the Manchester Cathedral prize and top-three placings in the Ballymaloe, Wigtown and Bridport international poetry prizes."
A Nightingale for Gilbert White                                 
April 5, 1768
Buds and shadows fatten, but the garden's lean.
A London smoke crawls west, and cucumbers
are tortoising across the sweat-sweet dung.
A nuthatch jars and clatters in the oak;
rooks get cocky in the Selborne copse. At last
the air is quick with bee-flies, kites and larks
and April falls across the parish like stained glass,
like rest for the broken-backed. The diarist
dashes off one word to stand for spring – Luscinia!
Colour blurs from every quickened hedge
into the woodsmoke hours. The nightingale
loops speechless syllables on every thorn.
Attention, after all, is prayer. Nothing goes unseen.
3rd Polly Atkin
£200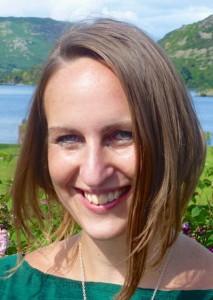 Polly Atkin lives in Cumbria. Her second poetry pamphlet Shadow Dispatches (Bridgend: Seren, 2013) won the Mslexia Pamphlet Prize, 2012. In June 2014 she was awarded New Writing North's Andrew Waterhouse Prize 2014, for work in progress which 'reflects a strong sense of place or the natural environment'. She teaches English and Creative Writing at the University of Strathclyde.
Tiny Glass Horses
Half caught in the watery corner of one
wandering eye. Feral. Prancing
over the frozen field with a tinkling
rattle of silver bells like dripping
icicles dropping one after one
from a cornice thick with late spring snow.
Arpeggio of miniature hooves chipping
music from the austere ground as if digging
for food in an hunkering season. Chink
chink. Are they dancing or harrowing? Now
flaring their crystalline nostrils at vitreous
sky, throwing their heads back     chink
thrashing manes smashed to clattering
ice on their twisting necks. Chink
chink. Pellucid bodies weighty
as icebergs. Sailing through thick white sea.
Chink. Terrible harmony. Trick
of the screen. Clouds too breaking themselves
on their own brittle flanks. Surely an error.
Chink. Innumerable marble eyes staring
straight into mine through the glass.
Funniest Poem – Geraldine Clarkson
£100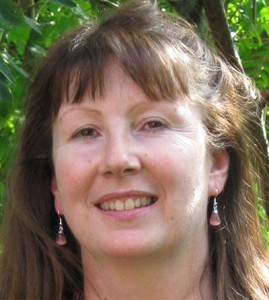 Geraldine Clarkson is a former Escalator prizewinner and her poems have appeared in many magazines, including Poetry London, The Poetry Review, The Rialto, Magma, Iota, and Ambit. She won the Ware Sonnet Prize 2014, and is included in The Best British Poetry 2014 (Salt).
O Machynlleth
Machynlleth (oh), I knew when you turned up
on the train how special you would be
with your tricked-out streets and deep vowels
and pretty black-haired Welsh girls,
and I rejoiced over you only they quickly told me that Tesco
had laid claim to you and I felt shame for you, wild bride, forced
into some marriage of meat and milk. I mourned for you
as a man bereft, full of hiraeth
for something he has not quite possessed,
which psychologists say is a harder loss, more unlikely
to reconcile, or make right, or let be.
Machines have feelings and I am a man with hubris and a heart
which beat more quickly for you, ridden roughshod by counter-hoppers
and fat-arsed shoppers loading up. Me leaden and histrionic
for somewhere I hardly knew! Your daughters, their raven hair tamed in nets,
at the cheese and fish counters, interrogated and put-upon by counter-hoppers
and fat-arsed shoppers loading up. And me, no doubt, at some future date,
a puce-faced counter-hopper and fat-arsed shopper loading up.
Norfolk Prize  – Diane Jackman
£100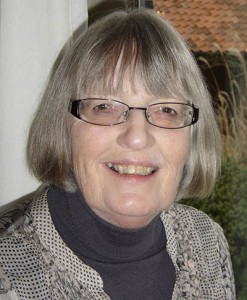 Diane Jackman's poetry has appeared in The Rialto, Outposts, Words-Myth and Story (Happenstance Press) and many other anthologies and magazines.  Winner of Liverpool Poetry Festival 2006, Mystery short story competition 2013 and Deddington Festival 2014.  Other works include the libretto for "Pinocchio" for the Kings' Singers/LSO, seven children's books, translated into several languages, children's stories and choral lyrics.
She has just completed "Old Land" a series of narratives exploring the lightly-buried past of the countryside, and is now walking the lanes, gathering material for her next sequence.
Margaret Paston marries the heir
I have given my troth
and am come inland
to this red house –
captured by the depths of love,
locked four-square close
within a silent moat.
Only carp swim there
which this and every night
stare stiff from the platter.
My docile mare, wedding gift
from a loving husband,
steps safely through the quiet woods
beside the winding Wissey
where pigeons moan in the trees
and a kingfisher may light the willows.
But when the north-easter howls at dawn
and the wainscot shifts,
I am a girl again,
galloping Flint along the shore,
wind whipping through his loosened mane,
shingle hissing as the water slackens.
Gulls swoop and scream
and in the white-flecked sea
seal-heads come and go in the breakers
As the sun comes up
I reach for my husband's arms
and am content
with love's captivity.
And our six commended poets, winning £50 each are: Martyn Crucefix, Ailsa Holland, Zelda Chappel, Keri Finlayson, Lindsey Holland and Di Slaney.