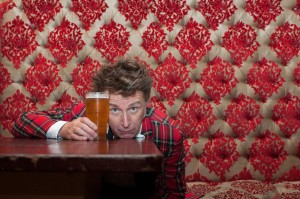 Stand-up poet, armchair revolutionary and recumbent rocker, Elvis McGonagall is the sole resident of The Graceland Caravan Park where he scribbles verse whilst drinking scotch, listening to Johnny Cash and throwing heavy objects at his portable telly.
Elvis' sitcom series Elvis McGonagall Takes A Look On The Bright Side was broadcast this year on BBC Radio 4 where he appears regularly (Saturday Live, the Today Programme, Arthur Smith's Balham Bash and others as well as writing and presenting documentaries).
He's also appeared on BBC1's The One Show (his jacket clashed with the lime green sofa), BBC2's The Culture Show, on Channel 4's Random Acts and on BBC Radio 2's breakfast show and It's Grimm Up North and the World Service.
Elvis is the 2006 World Slam Champion, the compere of the Blue Suede Sporran Club and performs and comperes at literary and music festivals, comedy clubs and dodgy dives up and down the country and abroad.
A live recording of his show One Man And His Doggerel is available on Laughing Stock Records and a short collection of his work Mostly Dreich is published by Nasty Little Press.
"….righteous ire, directed at very deserving targets….McGonagall's verses are shot through with a moral umbrage and rhetorical power" (****The Guardian)
"….funny, angry and tightly written….McGonagall combines anger, polish and carefully crafted verse in a way which recalls John Cooper Clarke in his prime. If the word 'poetry' is putting you off, get over it" (****The Scotsman)
Further info at www.elvismcgonagall.co.uk