This event will take place through Zoom. See Home Page from ten days before the event to book.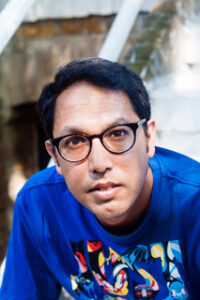 A poem from Rishi Dastidar's debut Ticker-tape was included in The Forward Book of Poetry 2018. A pamphlet, the break of a wave, was published by Offord Road Books in 2019. His second collection, Saffron Jack, is published in the UK  by Nine Arches Press. He is also editor of The Craft: A Guide to Making Poetry Happen in the 21st Century (Nine Arches Press).
Jill Abram is director of Malika's Poetry Kitchen, a collective encouraging craft, community and development. She grew up in Manchester, travelled the world and now lives in Brixton. She performs her poems across London and beyond, including Ledbury Poetry Festival, Paris, USA and now online.  Publications include The Rialto, Magma, Fenland Reed, Ink Sweat &Tears, And Other Poems and Harana. Jill produces and presents a variety of poetry   events and she created and curates the Stablemates series of poetry and conversation.