Events begin at 7.30pm on Zoom. Please book tickets trough the Eventbrite link on our Home Page when it appears about ten days before the date.
Julia Webb is a writer and collage artist based in Norwich, UK. She is a freelance poetry tutor/mentor and a poetry editor for 'Lighthouse'. She runs online poetry courses and also mentors for The Writing Coach. In 2010 she won the Poetry Society's Stanza competition and in 2018 she won the Battered Moons poetry competition. She has had a poem highly commended in the Forward Prize. She has three collections with Nine Arches Press: Bird Sisters (2016) Threat (2019) and The Telling (2022).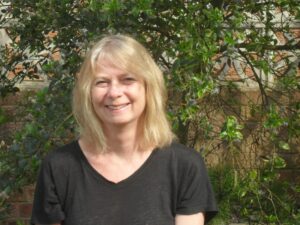 Sue Burge is a freelance creative writing tutor, mentor and editor based in North Norfolk, UK.  Sue's poems have been published in a wide range of journals and have also featured in themed anthologies on science fiction, modern Gothic, illness, Britishness, endangered birds, WWI and the ongoing pandemic.  In 2016 she received an Arts Council grant which enabled her to write a body of poetry in response to the cinematic and literary legacy of Paris, which resulted in her first collection, Lumière .   She has two collections out with Live Canon, In the Kingdom of Shadows and Confetti Dancers.  The latter features a sequence of poems in homage to the loss of a dancer friend to the AIDS pandemic in the 1980s.  The Saltwater Diaries  (Hedgehog Poetry Press) was published in 2020 and examines Sue's ongoing relationship with the sea.  She is currently working on her next full collection which explores the world of the alter ego she left behind in Paris three decades ago.  Her collection of eco-poetry, watch it slowly fade, is forthcoming with Hedgehog Poetry Press.