Events begin at 7.30pm on Zoom. Please book tickets through the Eventbrite link on our home page 10 days before the date.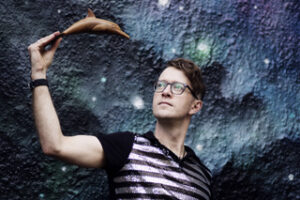 Caleb Parkin, Bristol City Poet 2020 – 22, won second prize in the National Poetry Competition 2016, the Winchester Poetry Prize 2017 and other shortlists. His poems feature in The Rialto, The Poetry Review, Under the Radar, Poetry Wales, Magma, Butcher's Dog and elsewhere. Commissions include Poetry Society, Lyra Festival, Green Party, National Literacy Trust, Royal British Legion, and The Hepworth Wakefield.
He tutors for Poetry Society, Poetry School, Cheltenham Festivals, First Story and holds an MSc in Creative Writing for Therapeutic Purposes (CWTP) with a research dissertation focused on museum and gallery settings. He previously worked in BBC TV and radio production, as a teacher and Senior Inclusion Worker.
Debut pamphlet, Wasted Rainbow (tall-lighthouse, Feb 2021). Debut collection This Fruiting Body is published with Nine Arches Press, October 2021. Pre-order via Nine Arches, here:
https://ninearchespress.com/publications/poetry-collections/this-fruiting-body.html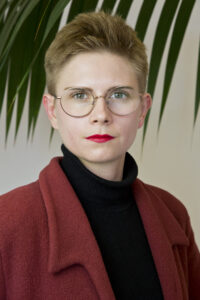 Cat Woodward's first collection Sphinx was published by Salo Press in 2017, her second Blood. Flower. Joy! was published by Knives, Forks and Spoons Press in 2019. In 2018 she won the Ivan Juritz Prize for Creative Experiment. Cat's current poetry project is a mytho-history of the city of Norwich. She studied for her PhD at The University of East Anglia, and she teaches creative writing.
—