Events begin at 7.30pm on Zoom. Please book tickets through the Eventbrite link on our Home Page 10 days before the date.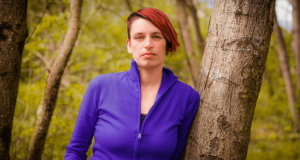 Kim was born in Leicester and now lives in Cumbria. Her first pamphlet If We Could Speak Like Wolves was a winner in the 2011 Poetry Business Pamphlet Competition, and went on to be shortlisted for the Michael Marks Award and the Lakeland Book of the Year. Her first full length collection The Art of Falling (Seren 2015) won the Geoffrey Faber Memorial Prize. Her second collection All The Men I Never Married was published by Seren in 2021 and her first non-fiction book What The Trumpet Taught Me will be published by Smith/Doorstop in March 2022.
She won an Eric Gregory Award and the Geoffrey Dearmer Prize in 2010 and was shortlisted for the Forward Prize for Best Poem in 2015. She won the 2020 Ledbury Poetry Competition and was placed third in the 2021 Mslexia Poetry Competition.
Her work has been translated into many languages as part of the Versopolis project and she was a judge for the 2018 National Poetry Competition and the 2020 Forward Prizes.
She was awarded a Vice-Chancellor's Bursary in 2016 to carry out PhD research at Manchester Metropolitan University, and completed her doctorate in 'Poetry and Everyday Sexism' at Manchester Metropolitan University in March 2020.
She is the co-director of Kendal Poetry Festival and hosts a monthly reading series for Wordsworth Grasmere as well as running regular writing workshops for young people and adults.
She is a keen runner and plays trumpet in a ten piece soul band and flugel in a local brass band.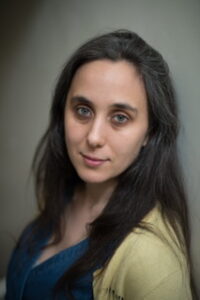 Born in High Wycombe, Jenny Pagdin studied English at Oxford University and a Masters in Creative Writing at the University of East Anglia. Her pamphlet Caldbeck was published by Eyewear in 2017, shortlisted for the Mslexia pamphlet competition and listed by the Poetry Book Society; her full collection manuscript In the Snow Globe is being considered by publishers. Competition wins include second prize in the Café Writers competition 2021, the Café Writers Norfolk prize 2017 and longlisting in the Rebecca Swift Foundation Women's Poetry Prize 2018. Her work is featured or forthcoming in New Welsh Review, Smoke, Magma, Ambit, The Stand, Wild Court, Finished Creatures, Ink, Sweat & Tears and an Emma Press anthology.